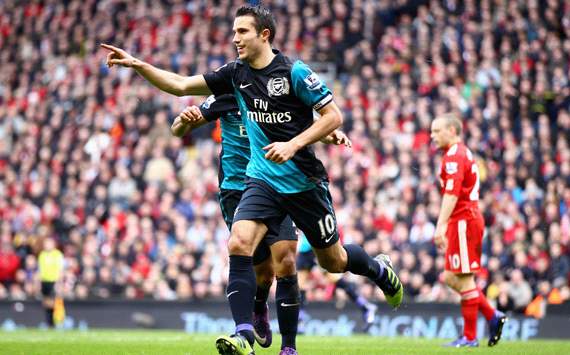 The Arsenal captain has been in majestic form this season, netting 25 Premier League goals so far, but is he as good as Barcelona and Real Madrid's goalscoring machines?
His outstanding goalscoring form this campaign has seen him compared to the likes of La Liga stars Lionel Messi and Cristiano Ronaldo.

But with talks over a new deal at the Emirates currently on hold until the end of the season, questions are already being asked over whether the club will be able to keep hold of their talisman.

The Netherlands international has just 18 months remaining on his deal and finds himself in a similar situation to that of Gael Clichy and Samir Nasri last summer, while a number of Europe's elite clubs, including Barcelona and Real Madrid, have been linked with a big-money move for him.

While Messi and Ronaldo are largely considered the best two players in the world after consistently scoring goals for fun in Spain - and in record-breaking speed - is Van Persie in the same bracket as the duo?

Do you believe the Dutchman is the best striker in the world at the moment? Or has he still got some way to go before being compared to the likes of Messi and Ronaldo? After voting, let us know your thoughts in the comments section below.